Frequently Asked
Questions
.
How To Enter
We are no longer accepting submissions for 2023
ENTRY FEE IS €100 + VAT 23%
With this you will receive 4 issues of the Licensing World magazine
up to 5 email address for the online edition.
If this is your first year entering please create a new account here. If you created an account last year please use same login details.
When Is The Deadline Date?
The deadline date for entries is the 26th of May 2023.
Entry Criteria
To enter you will need the following:
1.) A photo of the related area, ie if you enter best outside space, a photo of the space will be necessary.
2.) A signed waiver, please click here to download waiver.
3.) Credit card
Once you are logged in, you will automatically be brought to the "My Applications" page. Each Premises can enter up to 5 categories, please select 1 from Bar Type, 1 from Food Type (if applicable) and up to 3 (Or 4 if food categories are not applicable) in General Categories.
4.) All bars must be accessible to the Public as our Judges will remain anonymous 
Waiver Form
What does the waiver form cover?
One round of drinks for Judges (this applies to all categories in Bar of the Year Awards, with the exception of the categories judged by a panel, which will consist of up to five members.)
A meal for two, including two starters, two mains, two desserts, two drinks plus tea/coffee (where applicable).
If you are a nightclub/venue that requires paid entry, please send four complimentary tickets for judges as it is judged by a panel.
Free entry into any visitor attraction.
When do I receive the waiver form back? 
This form will be presented to your reception/waiting staff on checkout/departure who will be asked to deduct the cost of the judge's inspection from the bill. Please communicate this process with your team.
Where Can I Buy Tickets To The Event?
Tickets for the 2023 Bar of the Year Awards are now on sale. Click here for more information on how to secure your tickets.
What Does A Ticket For The Event Include?
Your ticket for the event will include:
Bubbles upon arrival.

Tasting village with a wide variety of the best brands from our sponsors. They will be present and happy to provide you samples of their finest products.

A 3 course meal in between the ceremony.

5 bottles of wine for the table.

A live band on the night and after the ceremony.
Accommodation Information
Once tickets are on sale, we will have a list of nearby accommodation available to you on the night for your convenience.
Judges Feedback
All judging comments and identities are confidential. However, if an entrant requires specific feedback it must be requested in writing to events@ashville.com before judging commences or immediately after entering. This will be compiled during the judges final  meeting and an email reply will be issued by the judging team.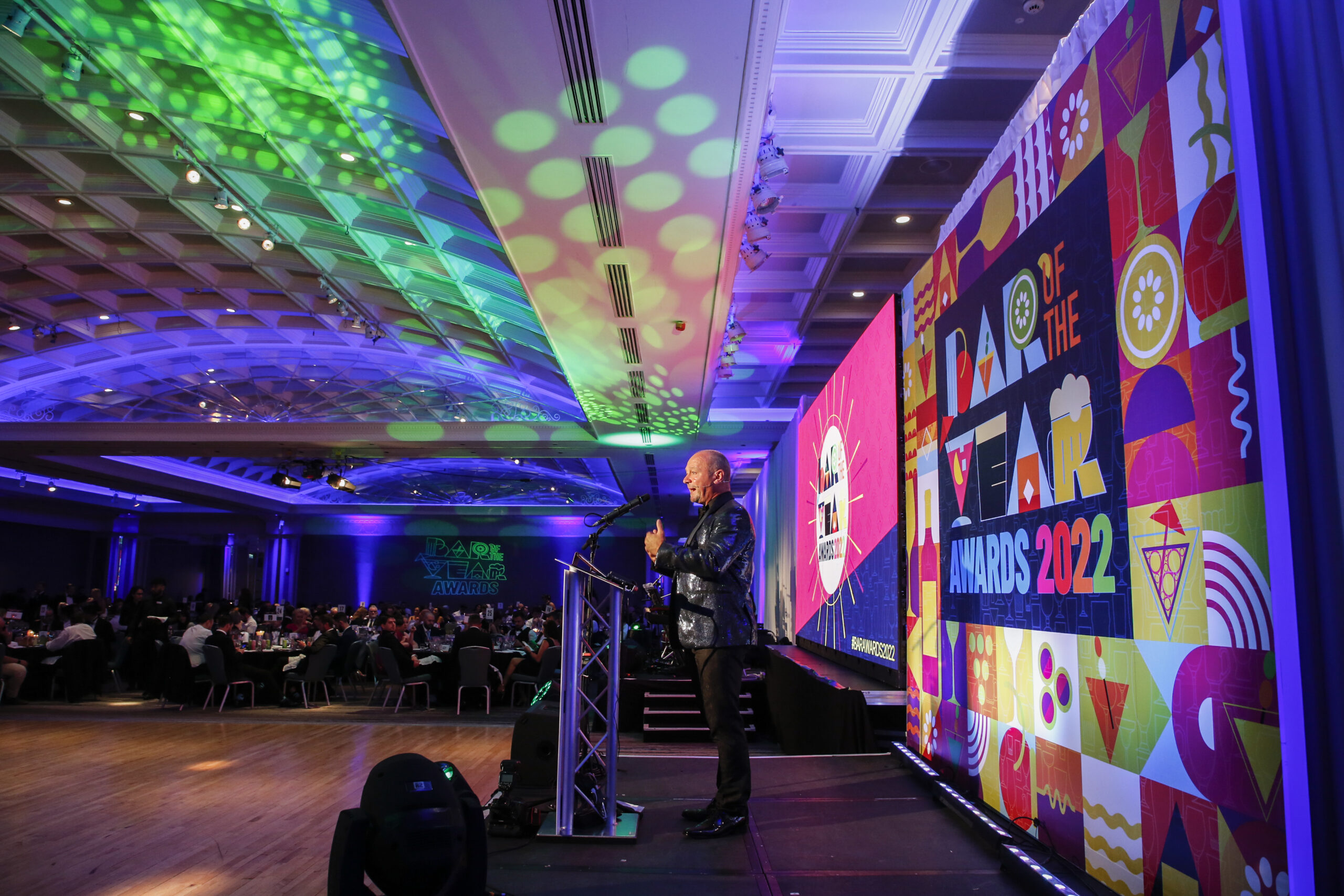 Alan Shortt welcomes the attendees at the 2022 Bar of the Year Awards
Once the submission period is closed, all verified and completed entries will go forward to the judging panel for online review. The premises will then proceed to the 2nd round of judging and most importantly, will be blind site inspected. Site inspections will take place in May/June/July. On completion of site inspections, a final judges meeting will take place. A finalist list will be released and the winner of each category will be announced at the awards night on the 21st of August 2023.
All shortlisted premises will be eligible for the People's Choice Award. The top premises in each region – Dublin, Leinster, Munster, Connacht/Ulster will go forward for public voting for a two week period. Regional winners will be announced and the Overall People's choice winner will be announced at the awards night on the 21st of August 2023.
Social Media
Make sure to follow us on Social Media... you never know, you might feature! Our hashtag is #BarAwards2023